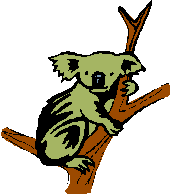 Day 1
We departed Hong Kong on 22nd December. Rex got out from school at 3.30 pm and jumped into our car at 3.31 pm. We drove straight to the Hong Kong International Airport.
The departure time was 19:20. We had a lot of time to spare. Big cat and small cat got out from the bags to look around.
After eight dull hours (due to electronic failure, we had no music, no film, no light throughout the journey) of flight, we reached Sydney very early in the morning.
Day 2
We hired a cab and went to the Pacific International Apartment at Sussex Street. The apartment we reserved has a fairly big dining room, two bed-rooms, two bathrooms, an open kitchen, sofa bed and the most important of all, at a very good price!
Pun came and joined us in the morning. Vincent couldn't make it because he was feeling unwell. Rudi, Rex and Pun spent the whole morning playing hide-and-seek in the apartment while the big guys were taking a rest after the tiring flight.
We took lots of delicious dim-sums at the famous Kam Fook Restaurant at China Town before we started our tour to Darling Harbour. The kids had a great time by visiting the Sega World (closed? under repair? I can't believe it!), Chinese Garden, Water Playground, and the famous Sydney Aquarium. Rex saw many sharks underwater and could not help from buying some key holder in the shape of a shark. It was a rainy day and the ground was slippery. Luckily we didn't walk a lot, thanks to the touring trains.
The day ended with a big dinner gathering at a Chinese Restaurant just opposite to our Apartment. We were joined by the Lung's family. What a great family reunion!